The Skeena Region is known for many things. Sprawling forests, meandering undammed rivers, world renowned fishing, white-capped mountains, vast wilderness and unceded Indigenous lands. You might be surprised to know that the Skeena also produces world-class guitars. They are known as resophonics guitars, to be precise, and they're hand-crafted in Telkwa, BC.
Rayco Resophonics was established in 2002 by Mark Thibeault and Jason Friesen in a dusty Experimental Farm shop between Smithers and Telkwa. After more than 430 guitars, most that have found homes around the world, Thibeault continues to design and build one-of-a-kind resophonic guitars that are as unique as the musicians strumming them.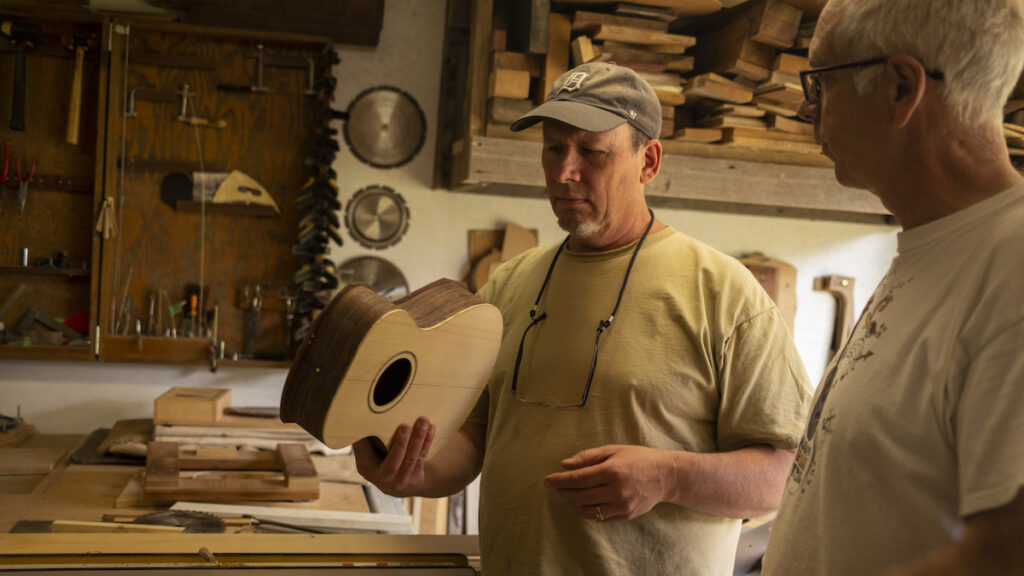 Like many other people living in the Skeena, Thibeault is an import. Originally from Bell River, a small community just outside Windsor Ontario, Thibeault first landed in Vancouver for a time, building Larrivée Guitars. But he soon made his way north, visiting Smithers and falling in love with the surroundings. Shortly after he made the move.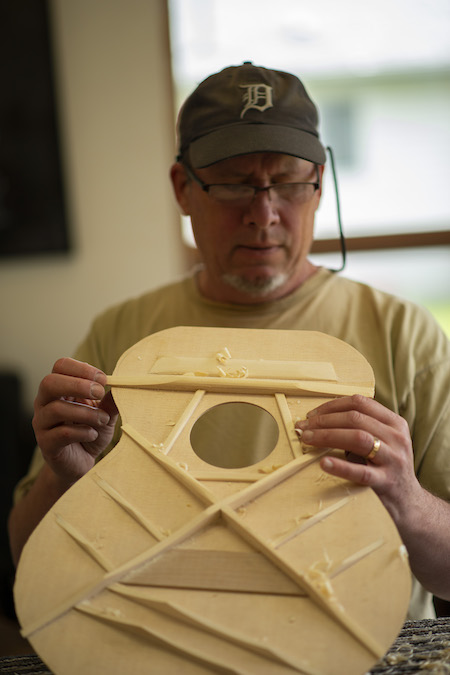 Thibeault started touring and playing in local bands and festivals around the Skeena. At one point he joined a bluegrass band and needed a new guitar. So he built his first resophonic.
"I decided to keep building instruments and I needed an instrument to play when I was playing in a bluegrass band and it didn't have a Dobro," Thibeault explained. "I ended up making one resophonic guitar, and they just took off. People just kept asking us to build them, and now we're 430 guitars later."
What is a resophonic Guitar you ask? I'll let Thibeault explain.
"A resonating guitar has an aluminum cone in it, spun aluminum cone or stamped aluminum cone. And it's designed to amplify the music. Back in the twenties, when bands were getting bigger, they needed to find a way to make the acoustic guitars louder. They developed this aluminum cone inside the sound well of the guitar and that it had this natural amplification. There's been a few changes to the design by different builders," he said.
"What we know as a spider bridge resophonic guitar, which is typically now used in bluegrass music, it has the cone inverted, as opposed to National Guitars," he explained. "They inverted the cone instead of a biscuit on top and had a spider leg that sat on all four or eight legs that sat on the edge of the cone that transferred the vibration from the string to that aluminum spider bridge to the cone."
Rayco resophonic guitars have ended up in the hands of bluegrass masters like Chad Graves, and even 14-time Grammy award winner Jerry Douglas.
"We're building with real high-end stuff," he said. "So, my guitars came up with beautiful figured, inlaid woods on them, where typically the resophonic guitar was just pretty plain Jane, it wasn't using a lot of quilted maple and stuff like that. It was just using real basic woods."
Rayco guitars stand out in the crowd. Flamed maple and koe wood make the bodies of the guitars almost glow, fine art in the form of a six-stringed guitar. After Rayco guitars hit the stage, they started to turn heads. For a genre of music that was very traditional, these guitars added an edge that no one had really seen before. It just so happened that quilted maple also had the best tone for a Rayco.
"People could actually have this instrument that is like fine woodworking, instead of just like this utilitarian instrument," said Thibeault. "It was this kind of finely crafted, beautiful piece of wood and that's something I learned from Laravee, we always used the top-notch wood, the best woods that he [Larevee] could find. That was something that we brought into this and decided to go with it."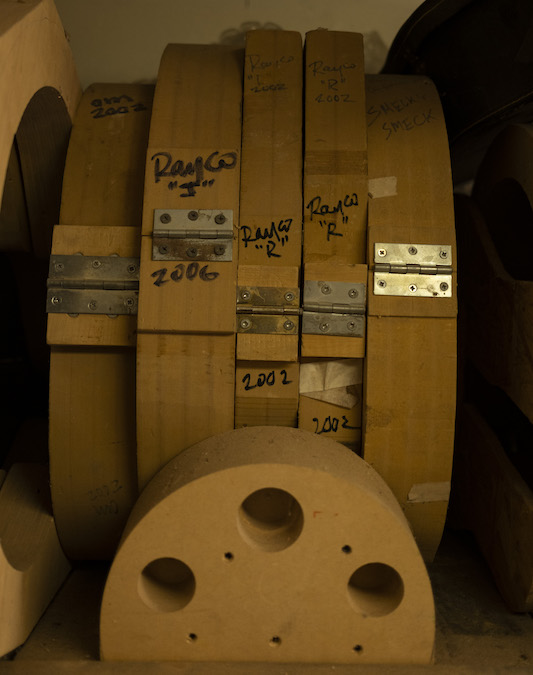 Thibeault knew that if they could build a guitar that was of high quality, looked beautiful and sounded great, then the product would sell itself. Early on, Rayco partnered with bluegrass festivals to feature the new guitars and promote the business, but it was more about a love for the music and the beauty of the craft.
"I can't say enough about that type of relationship, the idea of partnering with somebody to grow something, regardless of what it is like," Thibeault told me. "You're basically building a community of support in anything you do, especially creative and you need that because it's hard to do something in the creative realm, especially when you're starting out from nothing, so to actually find a community that's not only supportive, but encouraging, that's what I found about moving to the [Bulkley] Valley."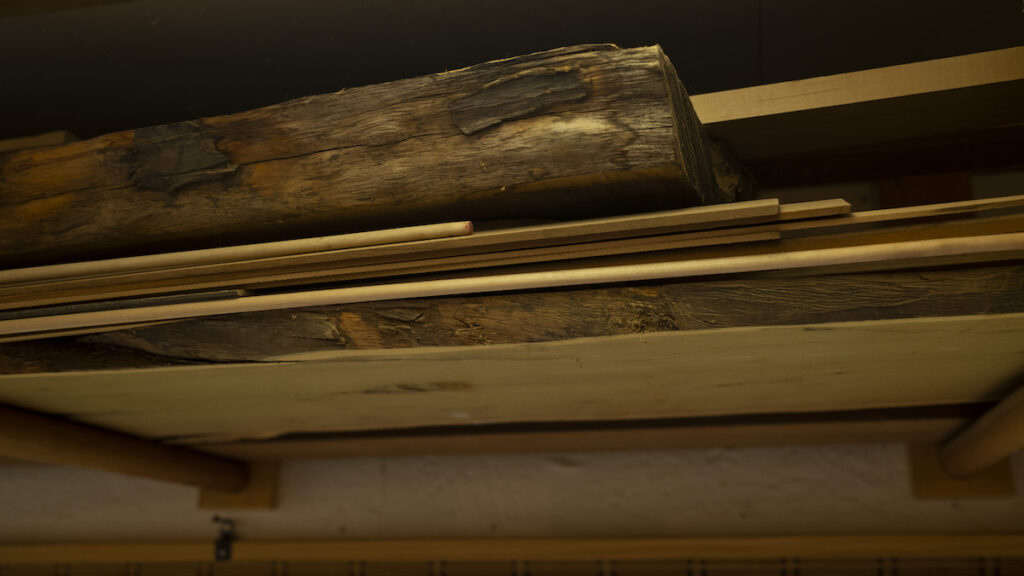 That encouragement helped launch what has become a very sought-after guitar, one that not many people can build. Over the last decade Thibeault has found a niche in the guitar world, a resophonic guitar that can produce a clean energetic sound, but also looks beautiful. Even landing a spot in Terry Burrows 1001 Guitars You Must Play Before You Die, a level of validation Thibeault is very proud of.
Now working out of a much smaller shop/art studio in Telkwa, Thibeault completes only a couple of resophonic guitars a year. However, he also works on several custom refurbishments on a regular basis. These are usually cherished old guitars that need some TLC. With a row of guitars lining the shop wall, waiting for his handy work, Thibeault said he enjoys coming up with distinct designs that are as unique as the people he's creating them for.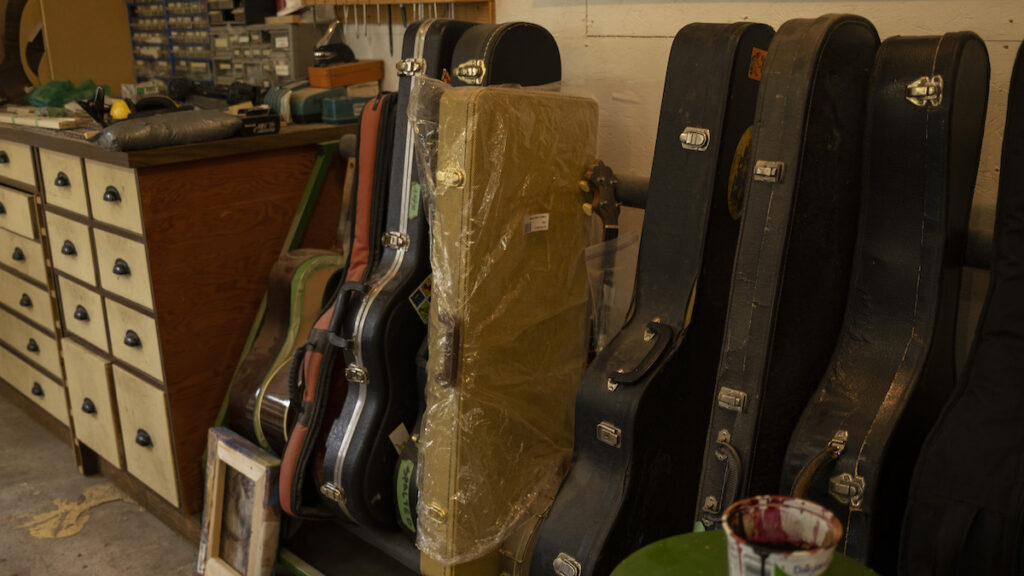 "I like working with people to design an instrument that is really personal to them and something that's kind of an heirloom instrument that they could hand down to their kids," said Thibeault. "And there is a story to them, it's not just something you pick up off of a chain store guitar rack."