A COVID outbreak at the Site C hydroelectric dam project grew slightly bigger last week.
"Ongoing monitoring and testing has identified additional COVID-19 cases associated with an outbreak declared by [Northern Health] Medical Health Officers on April 28, 2021, among contracted workforces on the Site C hydroelectric dam project in Northeast BC," reads a release from the health authority.
"To date, in association with this outbreak (involving separate clusters of COVID-19 activity since March 2021), there have been 39 lab-confirmed cases identified among various contractors (an increase of five)," it adds.
To date, 32 of those people have recovered and seven cases are currently active. "Workers on the project continue to be screened, and contact tracing is continuing. Those with confirmed cases and their close contacts are self-isolating," Northern Health says.
As of Sunday, there were 33 people in isolation at the Site C camp and 40 people isolating at home, according to the project's website. There have been 101 COVID cases associated with the camp since the pandemic began in March 2020–70 of those have occurred since the beginning of this year.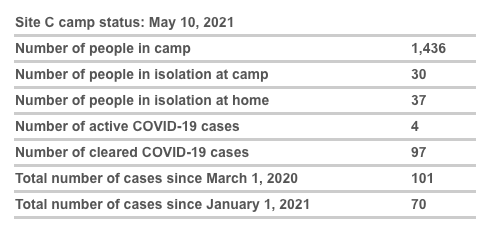 "BC Hydro is strictly following Ministry of Health guidelines and has implemented a range of protocols to prevent the spread of COVID-19 at Site C," the utility says. "We require people to isolate if they show any symptoms as described by the BCCDC, no matter how mild. These symptoms include sneezing, sore throat, muscle aches, headaches, cough fever or difficulty breathing."