The B.C. Centre for Disease Control reports that 33 flights with passengers confirmed to be infected by the COVID-19 virus have landed or departed through B.C. July 1 though 29th, up significantly from just seven such flights in June.
Fifteen of the COVID flights in July originated in Canada and 18 originated internationally.
Of the 15 domestic flights with COVID, 10 were Air Canada flights and 5 were WestJet flights. Kelowna and Montreal were the most frequently mentioned cities of origin.
Of the 18 international flights with COVID, 6 were Air Canada, 5 were Aeromexico, 3 were Delta, 2 were American, one was United, and one was Korean Airlines. Mexico City was the most frequently mentioned city of origin.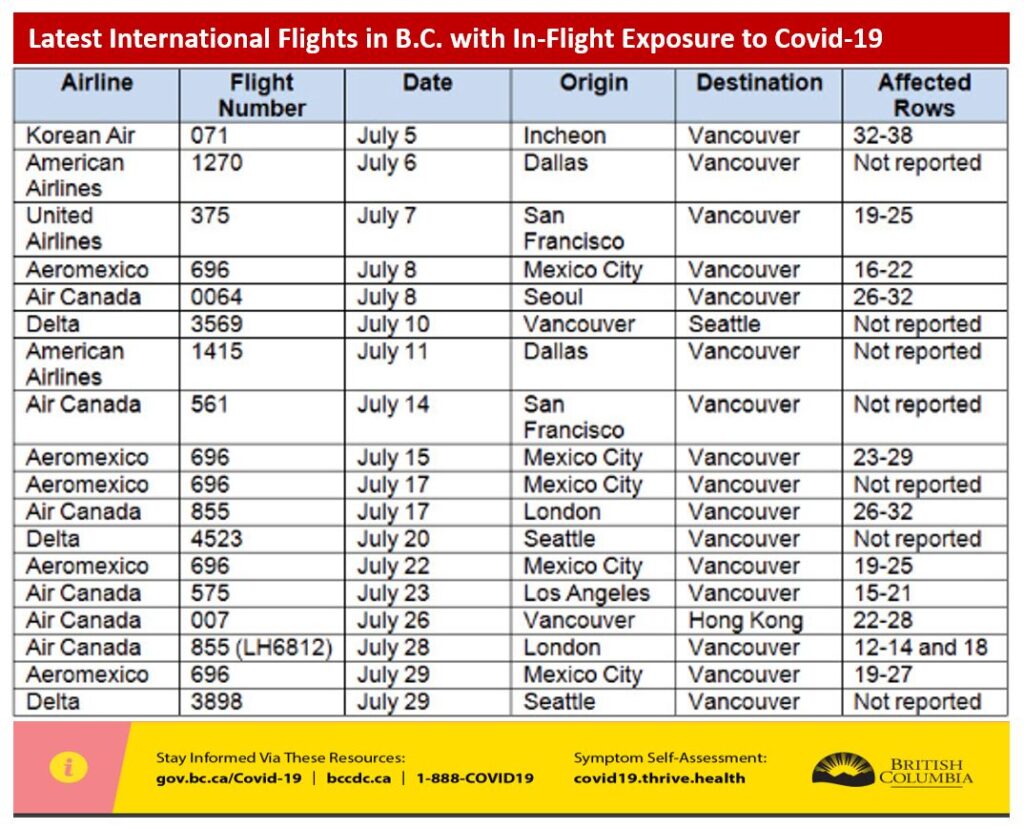 According the B.C. government website that tracks public COVID exposures, passengers seated near a confirmed case of COVID-19 will NOT be directly notified of their potential exposure. Instead, that information is posted online on this website.
The information on affected seating rows is listed for some of the COVID flights but not all. Passengers seated in the identifid rows should be considered to be at higher risk of exposure due to their proximity to the case.
It is currently mandatory, under the Quarantine Act that anyone arriving in British Columbia from outside of Canada to self-isolate and monitor for symptoms for 14 days upon their arrival and complete/register a self-isolation plan. Learn more about self-isolation at our dedicated page. Those arriving on domestic flights are not required to self-isolate.
For individuals who need assistance or cannot read the list of public exposures below, please call: 1-888-COVID19 (1-888-268-4319).