When you buy eggs in the Skeena there's a good chance they come from Daybreak Farms. The family-owned business is the largest provider of local eggs in B.C.'s northwest.
And it's celebrating 30 years in business this year. 
"It's an honor for me to get a good nutritious product out to the stores and accessible to the people," says the farm's operations manager Kieran Christison in a new video.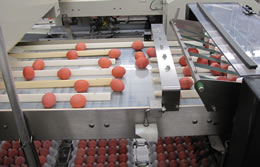 Christison says local food has become more important than ever during the pandemic, which has disrupted global supply chains. Feeding people across the Skeena is part of a life-long passion.
"I always wanted to be a farmer, I loved animals and I knew this is what I wanted to do," she says.
The video was produced by Campus Creative, an "emerging group of designers, programmers and filmmakers" that does work with small businesses.