It's official: the Skeena is finally getting vaccinated. The first Pfizer-BioNTech doses were given to health workers and high-risk residents in Smithers and Houston last week. Vaccination campaigns are also underway in Terrace, Prince Rupert and other places throughout the region. 
The burning question on everyone's mind: when will my family and I get vaccinated?
The BC Government has attempted to answer that question with a new infographic.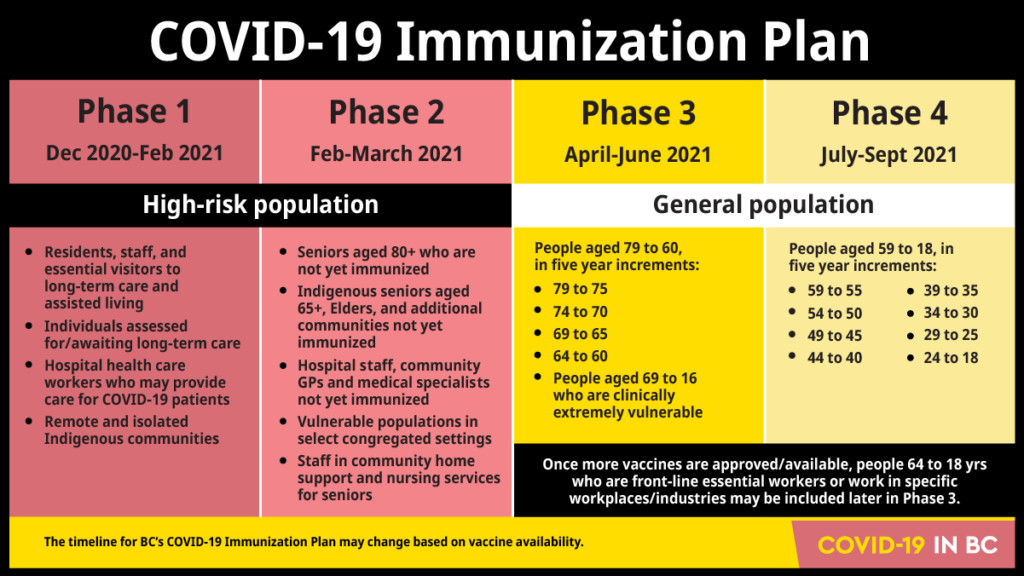 Unsurprisingly, it could be a while before younger people receive a COVID vaccine. From now until the end of March, the focus is on the "high-risk population", which includes "residents, staff and essential visitors to long-term care and assisted living," "remote and isolated Indigenous communities," "seniors aged 80+ who are not yet immunized", "vulnerable populations in select congregated settings" and others.
When April hits, people in the general population below age 80 will start receiving it. Each group is organized around five-year increments. So that means the age group 79 to 75 will get the vaccine, followed by 74 to 70, and on and on until everyone is vaccinated.
But it probably won't be until July that people age 59 and younger get the COVID protection, and potentially September for those below age 30.
All this is just an estimate for now, however. "Our timeline is dependent on vaccine supply," the government explains. "But our plan makes sure everyone the vaccine is recommended for has the opportunity to get it by September 2021." 
So that's the bad news: ending the pandemic will still take some time. But the good news is that we're getting closer every day.