Over the last few days, members of Cas Yikh house and the Gidimt'en Clan of the Wet'suwet'en Nation have occupied a Coastal GasLink drill site south of Houston along the Morice Forest Service road.
They have erected several blockades across an access road to the site, preventing CGL crews from entering the area. Several supporters have also bolted themselves to heavy machinery.
Members of the Wet'suwet'en and their supporters took control of the drill site – which CGL crews have been preparing for weeks to drill under the Wedzin Kwa River (Morice River) – in an attempt "to stop the drilling under the sacred headwaters that nourish the Wet'suwet'en Yintah and all those within its catchment area", according to a Gidimt'en Access Point press release.
RCMP officers moved in to remove several of the blockades, the first on September 25th, arresting one individual, purportedly with a taser, sources at the site told Skeena Strong.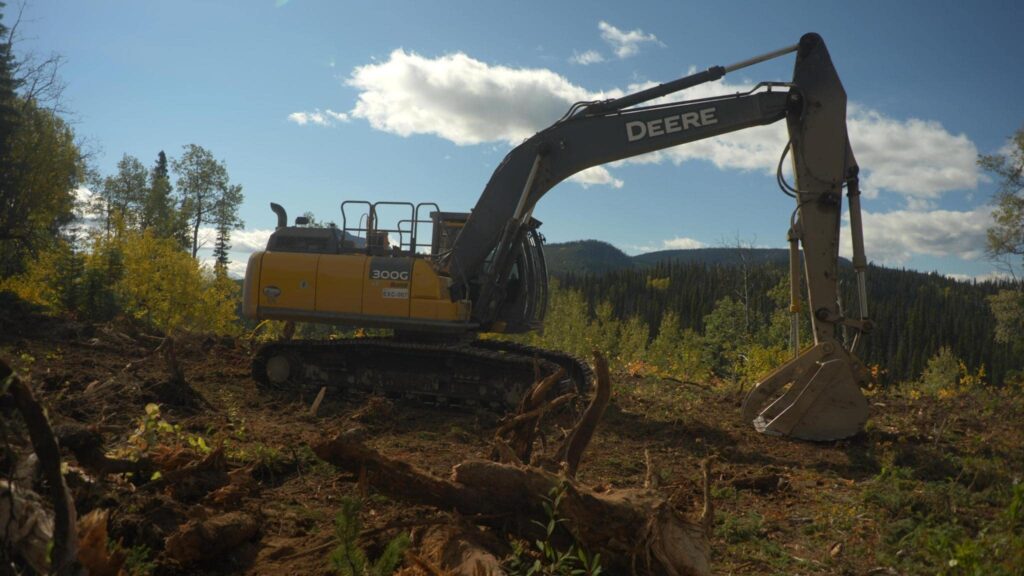 Calgary-based TC Energy said in a release that the work area near the Morice River includes "several pieces" of heavy equipment staged for clearing and site preparation activities.
On September 27th, RCMP, with the help of CGL work crews, removed a second blockade. A bus with an individual attached to the bottom of the bus had to be cut away before the bus was removed with heavy machinery.
The road leading to the site has been dug up and nearly impassable; it is not clear exactly how that happened.
Last week, the Gidimt'en Access Point issued a press release calling for the immediate halt of work by CGL due to the discovery of several artifacts at what was called an archeological site. Clan members wanted to investigate the site more, however they were denied access and work continued in the area.
That seems to have led to the current events taking place once again along the Morice Forest Service road.
In the winter of 2020 and 2019, the Gidimt'en Access Point and other Wet'suwet'en members twice blocked access to CGL work sites in an attempt to protect their lands and territory. Several arrests were made and the issue became headline news around the world and set off a series of other indigenous-led land back campaigns that saw several rail lines blockaded over two months before the COVID-19 pandemic hit.
Sleydo, also known as Molly Wickham, spokesperson for the Gidimt'en Access Point , said she and others are digging in and have no intention of leaving the site.
This is a breaking story, more to come.